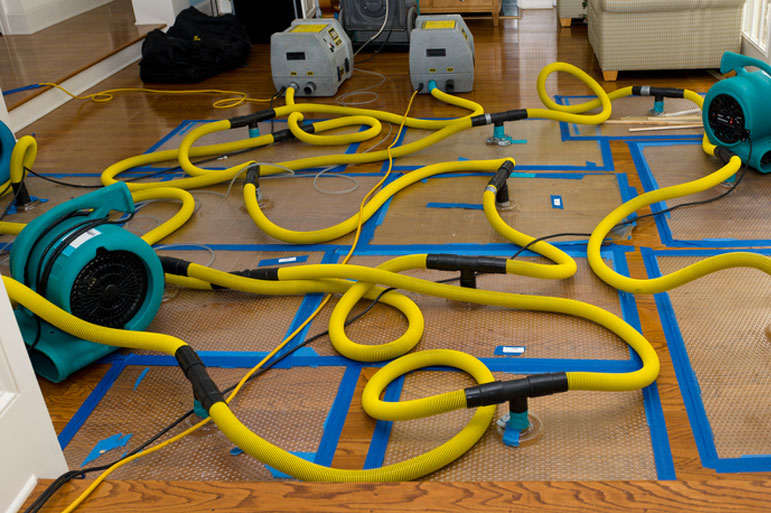 After a minor or major water issue in your Philadelphia home, you understandably want to restore your home quickly and get back to life as usual. Some local residents believe that once standing water is removed from their home, the work is done. In fact, some people may even be inclined to use towels, a mop, buckets and other efforts to remove water on their own, thinking that this hard manual labor will fully resolve the problem while hoping to save money. They do not realize that their method may actually result in more damage and may be ineffective at completing the job fully. At MDL Restoration, we understand that drying out all moist areas of the home and even removing extra moisture from the air are essential steps in the Philadelphia water damage restoration process.
The Importance of Thoroughly Drying Out the Home
You may be inclined to think that the moist surfaces will dry out on their own and that the humidity level will gradually improve over time. While this may be true, consider the incredible amount of damage that can occur when the drying process takes days or even weeks to complete. Surfaces in your home, such as wood, drywall and more, that were not necessarily affected by the flood itself can be damaged by high humidity levels. This means that the damaged area can continue to grow until the moisture and humidity are removed. In addition, moist air and surfaces create ideal conditions for mold growth. Mold can begin growing anywhere in the home when moisture levels are high. The best way to tackle these concerns head-on is to thoroughly dry out the home as part of the water removal and restoration process.
How Our Drying Process Works
At MDL Restoration in Philadelphia, we take the condition of your home seriously. Because of this, we quickly bring in industrial-grade dehumidifiers that dry moist surfaces and that remove moisture from the air. Several dehumidifiers may be placed in specific locations, and our team will carefully monitor the progress that the fans make. Through careful and frequent monitoring, we will know how to reposition the fans as necessary to produce fast results. Some materials that are saturated and beyond repair may be removed during this process to facilitate drying out the home.
What to Expect From Our Skilled Team
If you have never worked with a professional restoration company for extraction and drying out services, you may not know what to expect. Our team at MDL Restoration has been carefully selected based on their work ethic and their desire to treat you and your home with courtesy. We equip our hardworking and knowledgeable team members with exceptional equipment so that they can do their job as efficiently as possible. You understandably expect great things from a restoration company that is tasked with water extraction, drying and overall restoration of your home after a water event, and you will not be disappointed with what we can do for you.
The urgency of handling a water situation in your home cannot be understated. Each passing minute may result in additional damage and the increased likelihood of mold growth. Because minutes count, you need to hire a trusted company that can respond to your request for assistance without delay. Our team at MDL Restoration is available to head to your home in any location throughout the Philadelphia area. We will arrive as scheduled and with all equipment necessary to begin producing desired results. If you are dealing with a larger or smaller water issue in your home, now is the time to reach out to our team for professional assistance.
>> Related Content: Water Damage Restoration Process